I. What is mCommerce
Through many conversions and stages of development, traditional commerce moved to Electronic Commerce (eCommerce). And now, with the increasing development of technology, we can easily see that eCommerce users are gradually shifting from eCommerce to mobile commerce because of its convenience. Now we have the Mobile Commerce (mCommerce) term. We can define Mobile Commerce as a natural progression of eCommerce
Some 2018 statistics about mobile usage:
According to Outerboxdesign and Pixelunion statistics about Mobile Commerce
Over 1.2 billion people worldwide use their smartphones to access the internet

77% of American's (over 230 million U.S.) own a smartphone

Around 100 million U.S. consumers have tablets

79% of smartphone users have made a purchase online using their mobile device in the last six months

Almost 40% of all eCommerce purchases during the 2018 holiday season were made on a smartphone.

eCommerce dollars now comprise 10% of ALL retail revenue

Eight out of ten shoppers used a mobile phone inside of a physical store to either look up product reviews, compare prices or find alternative store locations

An estimated 10 billion mobile devices are connecting and using

Mobile eCommerce sales accounted for 34.5% of total eCommerce sales in 2017

70% of searches of mobile devices lead to action within an hour. (It takes desktop users a full month to reach that result.)

By 2021, analyst predicts mobile will dominate online sales, driving 54% (or $659 billion) in sales.

If your site gives a negative experience to your customers, they are 62% less likely to purchase from you in the future.
=> The impact: From those statistics above we can see that the effect of Mobile Commerce on Electronic Commerce in particular and economy, in general. Nowadays, almost all eCommerce platforms can make responsive for mobile, and it means you only need to build on the website and it auto responsive for your site. However, it is not enough, customers are fastidious people when they enter any website, and they have a negative experience on your website they will leave and likely to make a negative word of mouth about your site. So, you have to know that having your online store optimized for mobile is no longer an option, and it's a necessity.
II. Applications of mCommerce
There is a sameness about applications eCommerce and applications of mCommerce but conveniently:
Mobile shopping Retail, wholesale, digital content purchases, and distribution, etc.

Mobile banking: money transactions

Mobile payment: digital wallet (eWallet), in-app payment
All of these applications you may have experienced almost and you can see its convenient: Surf and purchase by mobile, transfer money with each other, and direct payment through your phone (QR code or paid for some service without complicated banking steps)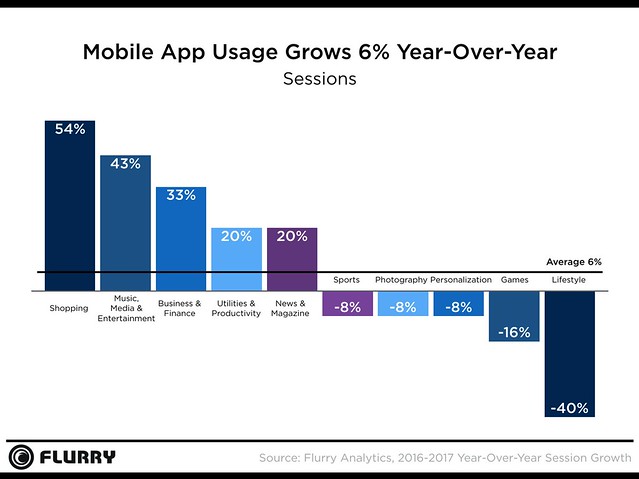 Mobile app usage
III. Key features of mCommerce
mCommerce is the providing of the right information, to the correct destination, and at the right time. It brings to users abilities to access the internet anywhere and anytime, gives merchants the ability to locate mobile users, and the ability to update the information depend on the need. mCommerce has some unique features that eCommerce don't have:
Ubiquity:

it is the main feature of mCommerce. Users can get any information they like, anytime when they need that they don't mind about their location through their mobile device can connect with the internet. Mobile devices and convenient access to the internet are developed together. With these features, mCommerce makes services can respond anywhere and anytime when needed.

Reachability:

through mobile devices, merchants can interact with customers anytime. On the other hand, with a mobile device, users can communicate with other people. Moreover, users can limit their exposure ability with specific people at a particular time.

Localization:

the ability to know customers' location when they're shopping also increases the value of mCommerce. It can help in marketing activities to know which area is profitable and potential, and then you can focus more on that area. Service companies use this very well, like Uber or Grab, it takes your location and takes care of you better.

Interactivity:

it has a high requirement of interaction in the support service and service supply. The statistic shows that mobile devices can improve customer service by up to 43% by the ability of immediate information access.

Convenience:

can't be denied that wireless devices are convenient. The wireless device is increasingly improving its features and users' experience. Not like traditional computing, mobile devices can be taken anywhere and anytime, it also easy to connect with the internet, intranet, and other wireless devices.
Mobile Commerce provides some unique services, not possible to provide in eCommerce, like locating services: map, distribution, etc.
IV. Some statistic of Magento – one of the best eCommerce platform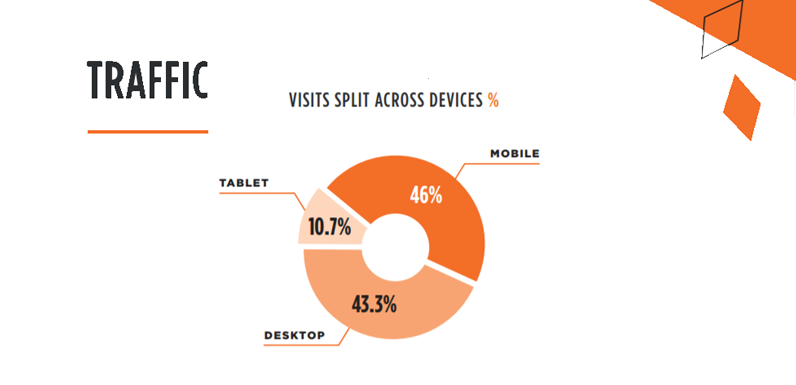 The traffic of each device. source: Magento, a Year in Review (2017)
You can see that Traffic of wireless devices takes place 56.7% compared to 43.3% of desktop, it is gradually shifting to the wireless device. But the conversion rate of the mobile devices is low. It can say that customers likely use a mobile device to searching for information before direct purchase at a real store. Move to AOV, desktop users spend more money on eCommerce. According to the assessment, customers often purchase a luxury item on the desktop than a mobile device.
A fun fact that Apple users spend money on mCommerce third time more than Android users (2017)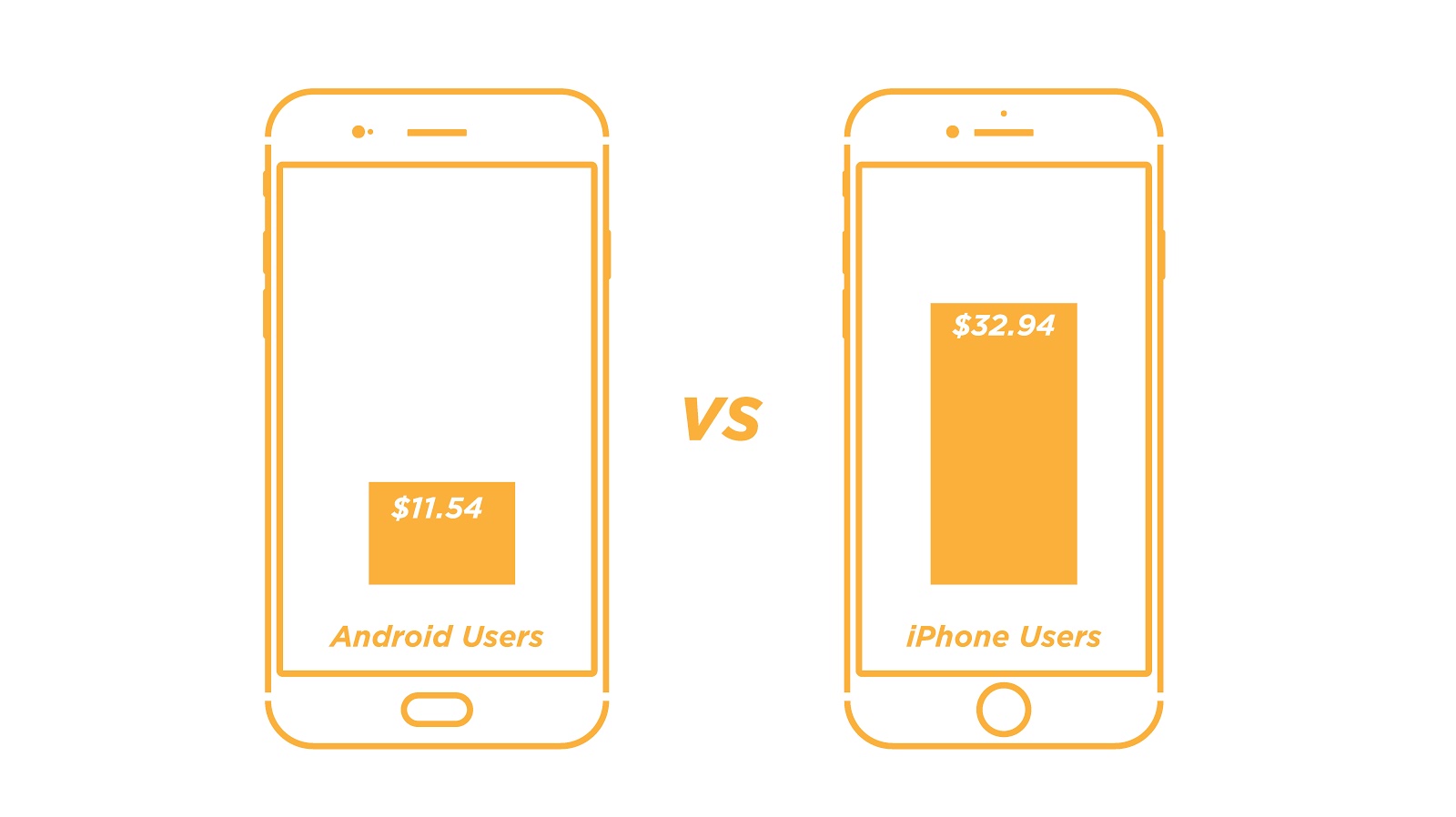 Mobile Commerce is future and necessary because of its development, so build a great mobile experience is needed. However, through the Magento statistics, the mobile shift is happening, but users use them to purchase convenience items and services. So depending on your type of products to consider focusing on desktop or mobile commerce.