SEO has a huge impact on the growth of your Magento store in particular and all thing on the internet in general. To attract any customers, the first thing you should do is make them can find you among millions of site like yours. It sounds like you are passively waiting for your customer to come to you. But it is not that easy.
To achieve that result, it necessary for you to learn about SEO in order to understand it thoroughly. Magento 2 is considered one of the best eCommerce platforms because of its friendly SEO features. This post will provide you some ways to optimize your Magento store, make it more appreciated on Google.
1. Optimize the URL
There are some things you should notice to optimize the URL for Magento:
Using HTTPs:

though HTTP is faster than the others, Google prefers HTTPs because of the security of HTTPs. Google saw it as a slight ranking signal

Short, suitable, and simple to understand!

The URL should be readable by everyone, both visitors and search engines must be capable of reading your URL to know what the page is going to about.

Don't use capital in your URL, and it can make visitors confusing. And if you want to separate words, hyphens are better than underscores.
In Magento 2, to compact the URL, you shouldn't include the category in the path. To turn off that:
Admin Panel -> Store -> Configuration -> Catalog -> Catalog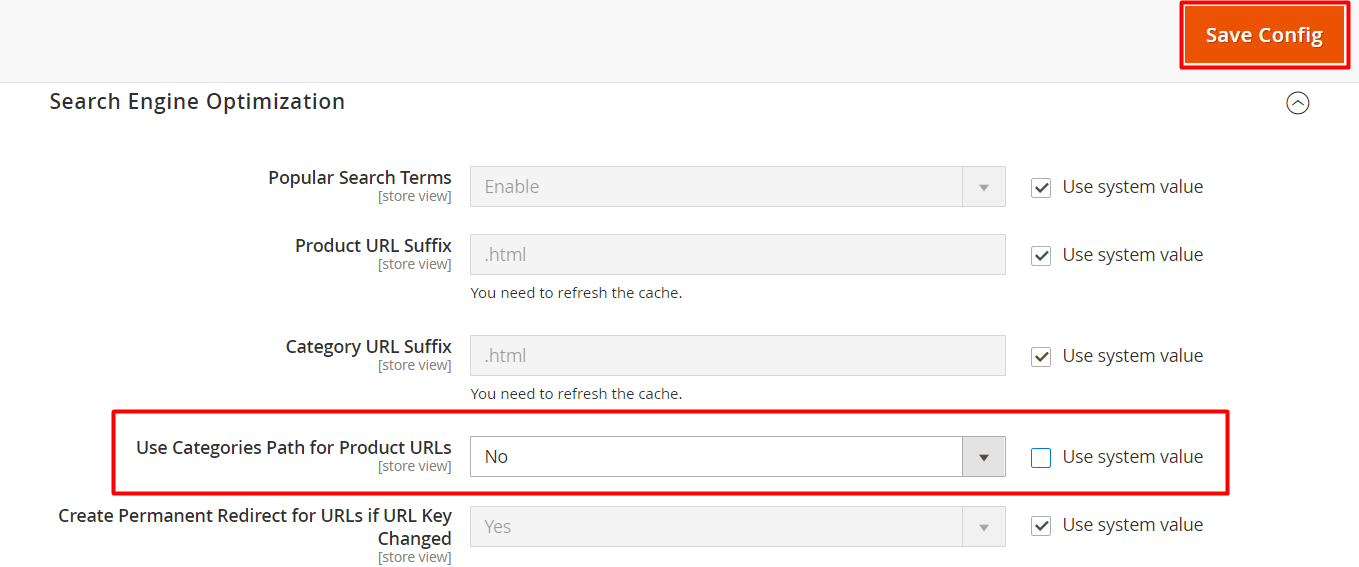 2. Improving Page Speed
Page speed is essential for your store and also for the SEO factor, a low site can directly drop the site ranking. More than 3s load to decrease the conversion rate of the store. So, how can you speed up your Magento site?
First is the Image. The image plays a part in page speed, one image can't be a matter, but full of unoptimized photos make a significant impact on your page speed. So, optimize the image is essential. There is no concept of PPI and DPI in a web layout, so you should resize and compress your image to make it reasonable and must use the JPEG image. Another thing related to the image and irrelevant to the page speed is the name of the image, you mustn't forget to set an alt text and meaningful name, which relate to the content, to help search engines better understand your site and also image search user can find you.
The second is to customize your Magento 2 store. Magento 2 provides some features to speed up your site like:
Full-page cache

(

Store > Configuration > Advanced > System > Full Page Cache

): Set

Caching Application

to

Varnish Cache

then complete the

Varnish Configuration

Merge CSS and JS files

(Stores > Configuration > Advanced > Developer > JavaScript setting / CSS setting).

You also can enable CSS/JS Minification to improve your site's speed.
3. Take Care of Your Blog Page
Magento 2 provides a friendly CMS. You must make full use of every aspect of your Magento store to attract customers. The blog is a necessary tool to get more traffic to your store and a place where you can express yourself and your style.
4. Titles & Meta Description
One thing you should remember that Titles and Meta Descriptions won't make your website rise to the top of search engine results. But by giving search engines and users the most straightforward and glamorous summary, it can help your site attracts web-surfer and improve click-through rates.
So how to optimize the Titles and Meta Description?
In 2019, the length of the meta title has been made almost 10-15 characters longer than it was earlier, and the claims for mobile devices are approximately 78 characters long. So, to optimize that in both desktop and mobile devices, the title shouldn't use more than 70 characters.
The meta description can show up to 170 characters. On a desktop, the best description for Google is 158 characters, and both Bing and Yahoo must show 168 characters. In the mobile device, all search engines will show up to 120 characters. So, the length of the meta description should be 110 to 160 characters.
5. Building Internal Link
Internal Link is an essential factor to boost your search result's ranking. The first thing is to help search engines can better understand your site, by creating the link network in your site, linking between pages in your website together. The second thing is to improve customers experience, save customers' time when they don't need to search for another issue is mentioned in that article, lead to an increased conversion rate
You need to assign your internal link in the content in a reasonable way and make use of Magento feature: Related Post and Related Product.

In Conclusion:
We all know the necessity of marketing activities in any business. And for eCommerce, SEO is one of the most effective strategies that you should focus and invest in it. However, that doesn't mean you just focus on SEO and ignore other aspects of digital marketing. You should mix SEO with different marketing strategies to achieve your goal.