Most customers will not decide to buy a product right away, even though they are interested in the product, but just add it to their cart for easy purchase later.
To avoid products in the cart being forgotten, Magento has a support feature that is a persistent shopping cart. This feature allows products to be saved in the customer's cart even if the customer is logged out of your website without placing an order or payment. And customers can complete the order and pay without having to search again for the product they previously wanted to buy.
Following is a guide to enable persistent shopping cart functionality in Magento.
To enable a persistent shopping cart in Magento, you need to follow these steps:
Step 1: Log in to your Magento Admin, in the menu select Stores -> Configuration -> Customers -> Persistent Shopping Cart.
Step 2: In the Use system value field, select Yes.
Step 3: Set the persistent cookie update time in the Persistence Lifetime field to 31,536,000 seconds.
Step 4: It is optional if you want to set the default option Remember login when they login to your site.
Step 5: In the Clear Persistence on Sign Out field, select No to ensure that all cart information is saved.
Step 6: Then, click Save to enable the continuous shopping cart function for your store.
Step 7: Finally, in the Persist Shopping Cart field, select Yes if you want to keep the cookie persistent when the session cookie expires.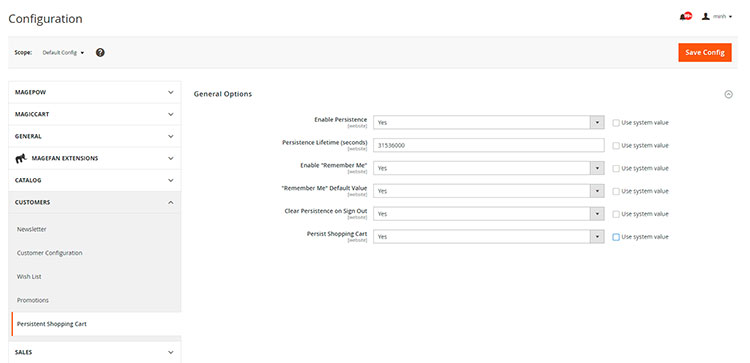 Above is the entire article on how to enable persistent shopping cart functionality in Magento. Hope the article is helpful to you. Goodbye and see you again.