As you know, consumers are the most critical factor that can grow your business. A business that has excellent products, but, without customers, they're nothing.
Knowing about selling is not enough, understand Consumer Behavior is essential and makes the sale easier. Consumer Journey is the first thing you have to care about, it is the way a consumer paid for you.
Supposing that customers plan to buy some gift for family and because of some reasons, they choose you.
So, what are "Some Reasons"?
Steps that consumers start purchasing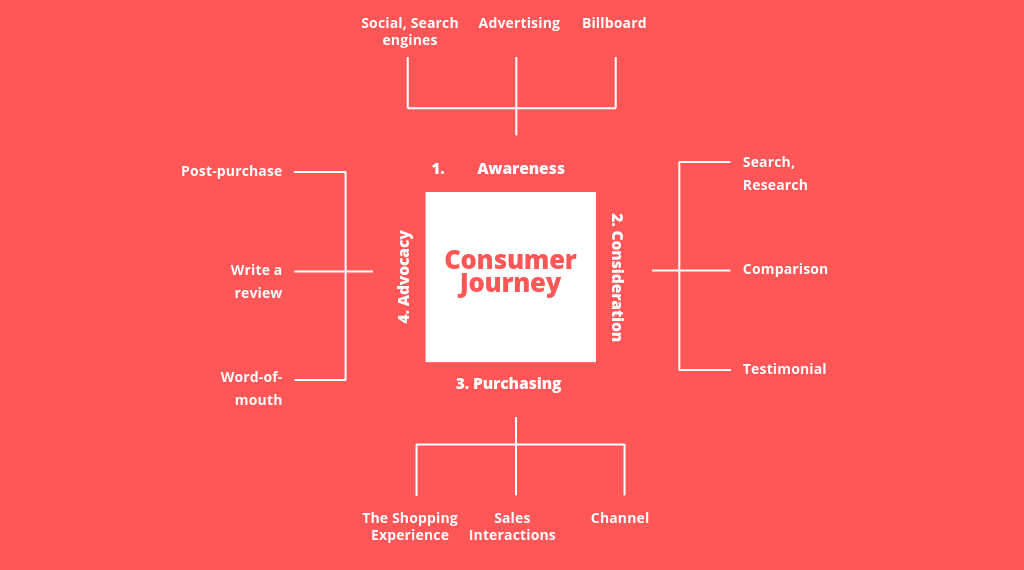 1. Interest and Awareness
This section is created by:
Social, search ads

Email, content marketing

Word-of-mouth

Billboard
The first step makes a significant impact on the purchase process of customers because you have to catch customers' attention first, then they can start purchasing.
Due to the competition of any market nowadays, marketing is growing up so quickly and essential for business. Creating the Customers Awareness nowadays is hard and also expensive, there is thousands of business like yours out there, therefore catch customers' eye is the thing to do.
Example: consumer found a gift and saw you through social media, at that moment, consumers know your brand appearance, the first step to making the consumer come to purchase decision
2. Consideration
Search and Research

Comparison

Testimonial

Social factor

Altern market
When customers knew about your store brand, they will consider your store and your competitors. The considering process includes search and research your products more carefully, comparing you and your competitors, starting to find testimonials of old customers.
The most significant factor that affects customers' choice is Social Factor, it includes Family, reference group, Roles and Status. Nowadays, most decisions are made depending on social, people like this or not, how will they judge when I buy that thing, I don't like this product because a friend said that it's not good, etc.
Example: Consumers check the information on the internet (almost 90% of people do this before purchasing or go to in-store), they can see your competitors' price and service. They went to the social network, they ask for users' opinions, they get advice from family and friends.
3. Purchasing
You should care about
The Shopping Experience

Sales Interactions

Which channel do customers use to buy your products? (eCommerce, in-store, etc.)
In this step, not only focus on the sale and profits but also provide good customer experience is essential, it can bring positive word-of-mouth. Minding about this step can bring you much information, and you can analyze them to serve the next customers better.
Example: after the Consideration, you hold the customers by discount and better price for excellent service comparing to your competitors, so they choose you. Salesman provides an enjoyable shopping experience and interactions, through both eCommerce, and in-store.
But, the sale doesn't end at the time of purchase
4. Advocacy
This section includes:
Post-purchase

Write a review: Blogs, testimonials, Youtube, etc.

Word-of-mouth
As noted above, the Purchase step is not the last step in the journey. This step brings more benefit to your business than the purchasing step, making one customer happy, then he will bring you hundreds of potential consumers. It also can be called Customer-driven marketing
Advocacy is an affirmation of your brand from customers, and it also is the motivation of your business to serve customers better.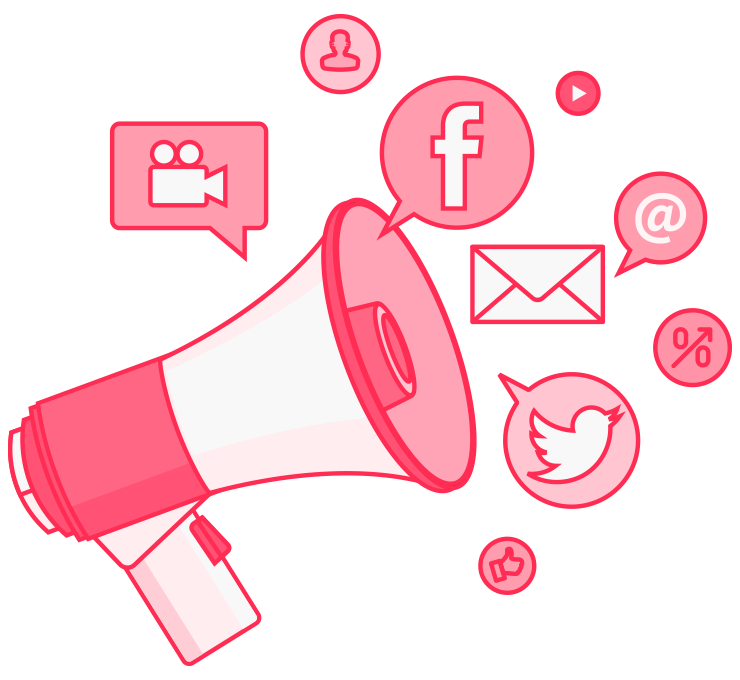 For example: after the Purchasing, they satisfied with your products and service, write reviews, and they can introduce your store to their friends and family. If you do good, they can be a loyal customer of you.
Factors Influence The Consumer Decision Making Process
I want to talk more clearly about the Consideration and the Purchasing process, it is necessary to know what factors affect the decision of Consumers.

1. People with Social Power
Also known as the influencer, they affect the consumers' behavior because of some power listed below:
Referent Power: gained by a leader who has strong interpersonal relationship skills.

Information Power: appear when a person knows something that others would like to know

Legitimate Power: power based on law and other formal authority

Expert Power: a person who is an expert in a particular field

Reward Power: held by a person who can offer a reward

Coercive Power: Opposite of Reward, it is held by someone who can punish
In the digital world and for marketing, Referent Power is important, it is also called Key Opinion Leader (KOL), KOL and Expert change consumers' behavior a lot, they have a significant influence on people who follow them.
2. Reference Group
Almost all the decision we've made is the result of what we hear and receive information. In marketing, those who affect you in making the decision are shaped as Reference Group.
It can be divided into two groups:
Normative Reference Group


Parents, Friends, Teachers, etc.

Comparative Reference Group


Celebrities, formal organization, cultural figure, etc
Some group is more powerful than others (teachers can be more impact on study thing).
Consumers are motivated to buy products that are consistent with those in their reference groups
3. Word-of-mouth
It is the spread of product information of customers to other customers. It receives more reliable and also make a social pressure to conform. It really powerful when the consumer who gives the information is unfamiliar with the product category. The things that the consumers who used product tell other consumers about products (both positive and negative) are often more influential than the advertising they see.
Negative Word-of-mouth is easier to spread than positive word-of-mouth, especially online.
96% of unhappy customers won't complain to you but will tell 15 friends.

In the digital world, everything is spread quickly, you can imagine the damage that customers can make to you when you give them a bad shopping experience. It is a challenge and also an opportunity for you if you do good. Fun fact that big companies always make the percentage of negative word-of-mouth is the same as the positive, it makes more and more people aware of the brand and doesn't damage the brand of the company.
To Sum Up, Consumer Journey is the process of people become consumers, understand those processes and the factors influence customer on making a decision make you enhance customer experience, then serve them better and finally can grow your business and make a huge profit.